We booked our flights through KLM
http://www.klm.com
- not only were they the cheapest for flying from Edinburgh to Entebbe in Uganda, they also offered the best flight times.
I used a couple of comparison sites,
http://www.netflights.com/
and
http://www.skyscanner.net/
but only to see what flights were actually available. I then used the individual carrier's sites to check and see what was best. KLM and Airfrance are actually one and the same and their prices are very similar.
However by far and away the best thing about flying with KLM is that we don't have to travel through any of the London airports, which if you didn't know are akin to the seven circles of hell.
Heathrow -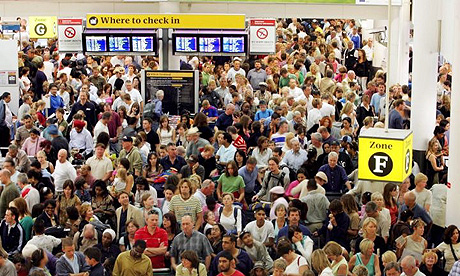 Gatwick -
Lovely Amsterdam Schiphol :-)
Flights cost £1340.00 for two people economy class, but bought and paid for 9 months before travelling. We fly on the 7th September, and the same flights now cost over £1400.00. British Airways also offer flights with a price of £7500 - I wonder if anyone uses them other than businessmen on fat expense accounts.
We leave Edinburgh early in the morning and will be in Uganda late that same evening. On the way home we'll leave late in the evening and be home by lunch time the next day - ideal really.